Apartment Hotel Costa d'Or
Calafell Beach - Barcelona - Costa Dorada - Catalonia - Spain

Spain Golf vacations in Calafell beach, Costa Dorada
Golf Vacations in Calafell: Golf Terramar in Sitges


Location and environment

The main characteristic of Terramar is that it is a pleasant course to play on. It is not excessively difficult, it is neither too long nor too short, the majority of the holes are flat and varied and the microclimate in Sitges means that golfers can enjoy around 300 days of good sunny weather each year. Because the course is next to the sea there are frequent breezes, but they do not tend to be very strong and they help to cool the heat of the sun in the summer months.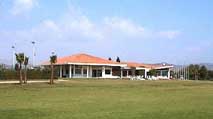 Club de Golf Terramar in Sitges

Camino de la Carrelada, s/n
Apartado de Correos nº 6
08870 Sitges - Costa Dorada - Spain
Telf: (00 34) 93 894 05 80 and (00 34) 93 894 20 43
Fax: (00 34) 93 894 70 51
e-mail: terramar.golf@teleline.es

Services

Practice course. Golf shop. Open-air swimming pool. Tennis. Bar. Restaurant. Lounge area. Dressing-rooms. Parking. Sea view golf course.

Course challenge

The secret to getting a good score probably lies in not making mistakes on the first and last holes, which are the most complicated of the course.

The holes from the 5th to the 8th are the only ones which are not flat, although the fact that they are situated in the first half of the round and that the slope is not too steep means that they are not too tiring.

There are not too many out-of-bounds on the course, but the trees which border the fairways can make it tricky to get a stray shot back on course.

However, a stream on the 3rd and the presence of 4 small lakes on the second half of the round means that water does play an important part in the game.

Unlike other courses, where the par-3's are recovery holes, at Terramar the par-3's are relatively long and complicated, and a bad shot to the green can cost you very dearly.

However, apart from the 16th, the par-5's are not excessively long or difficult, so they provide a good opportunity to get the game back on track.

Strokes

Consult this page Strokes

Opening Hours

Summer from 8:00 hrs to 21:00 hrs.

Start Time reservation

Directly at Golf
Telf: (00 34) 93 894 05 80 and (00 34) 93 894 20 43
Fax: (00 34) 93 894 70 51
e-mail: terramar.golf@teleline.es

<! tros comu>

Golf Vacations

In the nearby there are some other golfs like:



<!taula gran>