Apartment Hotel Costa d'Or
Calafell Beach - Barcelona - Costa Dorada - Catalonia - Spain

Spain Golf vacations in Calafell beach, Costa Dorada
Golf Vacations in Calafell: Golf Costa Dorada in Tarragona


Location and environment

Inaugurated in 1981, this was the first Golf Club in the Tarragona region.

It covers 55 hectares or some 136 acres of terrain, with numerous doglegs and hilltop tee-shots that offer magnificent vistas over the course.

Blending effortlessly into the scenic valley, the course has well-tended fairways bordered by pines, olive trees, willows and palm trees. From some points along the course there are beautiful views over the Mediterranean.

The Clubhouse is designed in traditional Catalan style and has recently been refurbished and expanded, now offering a modern area alongside the old rustic area.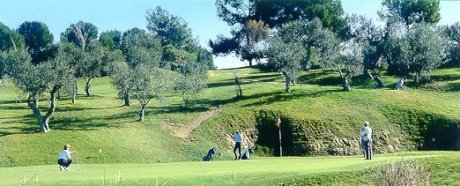 Club de Golf Costa Dorada

Ctra. El Catllar, Km. 2,7
43080 Tarragona - Costa Dorada - Spain
Telf: (00 34) 977 65 33 61
Fax: (00 34) 977 65 30 28
e-mail: golfcd@teleline.es

Services

Club, pullcart and caddie hire. School and tuition. Practice course and putting green. Golf shop. Café. Restaurant. Social club. Two swimming pools. Parking. Sea view golf course.

Course challenge:

This course offers variety. Number 13 is one of the longest in Spain with 582m. (637yds) from the white tee set, and has a spectacular two-tiered green.

Par for this hole is practically a birdie! Hole 16 with a par 5 features a large lake lying strategically close at hand. Place your drive to the left of the lake, but since the hole isd around to the right, players are tempted to get too near the water to cut down some distance, so beware.

Strokes

Consult this page Strokes

Opening Hours

Summer from 8:00 hrs to 21:00 hrs.

Start Time reservation

Directly at Golf
Telf: (00 34) 977 65 33 61
Fax: (00 34) 977 65 30 28
e-mail: golfcd@teleline.es

<! tros comu>

Golf Vacations

In the nearby there are some other golfs like:



<!taula gran>