Apartment Hotel Costa d'Or
Calafell Beach - Barcelona - Costa Dorada - Catalonia - Spain

Spain Golf vacations in Calafell beach, Costa Dorada

Golf Vacations in Calafell: Golf Vilanova i la Geltrú


Location and environment

If you come to Portal del Roc you will find an 18 hole Pitch & Putt course in excellent conditions. The quality of this course makes it one of the best in the Nation. We have thought in every single detail. The golf player will spend a good time from the moment of his/her arrival to Portal del Roc.

With a huge driving range the golf player will be able to either practice long shots, pitching shots, bunker shots and putting shots. Hopefully, all this practice will be translated into a very good score at the end of your round.

The course (1.495 meters) has all kind of types of holes, with medium-fast greens in great conditions that will give a good feeling to the golf player when putting. Once the golf player will have ended the round, he/she can always enjoy the Bar and Restaurant service where he/she will be able to recover and enjoy talking about the last round just played. Portal del Roc has also a Pro Shop with first quality material for Pitch & Putt as well as for Golf.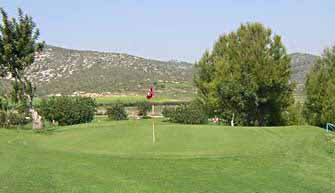 Club de Golf Vilanova i la Geltrú: Pitch & Putt Portal del Roc

Camí de la Talaia s/n
08800 Vilanova i la Geltrú
Costa Dorada - Spain
Telf: (00 34) 93 814 73 83
Fax: (00 34) 93 814 73 84
e-mail: info@portaldelroc.com

Services

Golf Academy. Driving Range. Proshop. Rent. Restaurant. Dressing room. 18 holes

Course challenge:

The Portal del Roc course was opened on December the 14th 1999. An 18 holes course right by the Aliga Hill with an exceptional view of Vilanova i la Geltrú with the Mediterranean Sea at the back.

A technical and amusing course where any player will enjoy every single shot and where both, begginers and experts, will have a good opportunity to play at their level.

Strokes

Consult this page Strokes

Opening Hours

Summer from 8:00 hrs to 21:00 hrs.

Start Time reservation

Directly at Golf
Telf: (00 34) 93 814 73 83
Fax: (00 34) 93 814 73 84
e-mail: info@portaldelroc.com

<! tros comu>

Golf Vacations

In the nearby there are some other golfs like:



<!tros que limita tamany del 2on text >

<!taula gran>